If you answered "Yes!", you're at the right place!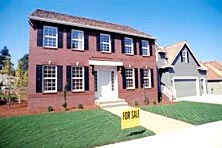 Here you can say goodbye to the risky stock market, low CD rates, once and for all, and say hello to safe, real estate secured investments.

With the likely recession, corporate accounting scandals, and the subsequent stock market plunge, many savvy investors now place their hard earned investment money in real estate. Now you too can place money in safe, secure real estate without the normal headaches that go with investment properties. You don't even need to have extra time or a lot of knowledge to get started now.
Contact us now and let us help you put your funds to work through one of our low risk, high return programs.

We're trained professionals who've created a business of Buying, Repairing, Renovating, Managing and Selling Homes in various locations, condition and price ranges throughout the Atlanta market.

We specialize in helping relieve Sellers of unwanted, unneeded homes they can no longer afford by creating solutions to help them get their home sold fast.

We help our Community by improving the homes we purchase and building better neighborhoods by helping those who need good, safe housing.

We help private investors, such as yourself, to get their money working with good, safe interest income that will maximize their investment dollars while minimizing their risk.

We've designed several attractive programs to work with individual investors like you. By working with you directly, we've been able to cut out the "middle man" --- the banks. Why should you be paid only a paltry 3-4% for your hard-earned money when you can achieve a return of 8-15% by investing in real estate?


Contact us now and let us help you put your funds to work through one of our low risk, safe return programs.
There has never been a better time to invest in real estate. Hurry and call before prices begin to go back up! 678-427-7700